Performance Beef makes it easy to record processing and health data. Record the data manually or streamline with an additional POINT scale indicator on the chute, electronic ear tags and a reader.
Additional electronic tag and hardware installation information below for EID users.
UHF Tags from PLA
Users have the option of purchasing ultra-high frequency (UHF) tags and a reader from PLA. They are sold in increments of 100 tags and in the following colors: yellow, orange, white and blank yellow.
Note: Our UHF tags do not serve as an official ID/tag per USDA. Click here to learn more.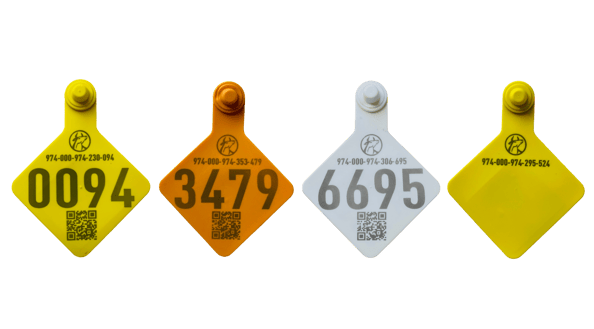 Additional Tag Options
Users may also choose to use their own UHF tags or LF tags and reader (inquire to confirm compatibility) and purchase a POINT scale indicator to begin using the Processing App within Performance Beef. Contact our team at 515-337-2187 for more information.
Installing Chute Equipment: UHF Reader, POINT and iPad
Mounting UHF Reader

:

Readers can be mounted several ways. Click here to view some examples below.

To test the location, insert the UHF reader into the mount receiver and tighten the bolt to secure the mount in place. Temporarily clamp in place while testing to ensure chute functionality and ability to read tags as below.

Test the appropriate location on or above the chute before final installation of the reader. Receiver mount allows you to horizontally adjust your UHF reader.
Note: UHF reader must be pointing downward and within 3-5 feet of the animal's head.
b. Connect the 8-Pin connector plug into the 8-pin connector port on the base of the POINT scale indicator.
c. Test read ability by holding a UHF tag between two fingers in the area where the animal's head will be in the chute.
Note: If working properly, the RFID tag number should appear on the POINT scale indicator screen. Metal and flesh may cause interference and impact operating frequency. If the reader is not working properly, adjust location to minimize interference.
2. Mounting POINT
The POINT should be located near the chute, yet out of the way, so the weight read out and EID are visible.
Follow the steps in the POINT Quick Start Guide to assemble, mount, update firmware and set up your POINT scale indicator.
Note: WiFi or cellular internet connectivity is required for initial setup.
In the POINT app, change the mode to Performance Beef Chute Scale
Open the POINT app
Select your POINT indicator
Select Choose Mode at the bottom of the screen
Select Performance Beef Chute Scale
If you have questions related to the POINT scale indicator, contact Scale-Tec at 888-962-2344 from 8 a.m. to 5 p.m. weekdays and 8 a.m. to 12 p.m. on Saturdays.
3. iPad Placement
The iPad should be located where it can be easily reached, usually on a table close by or on a RAM mount.
Note: Tru Test low frequency wands may need an additional setting adjusted for the tag to read on the POINT. On the wand, navigate to Settings > Tag Reading > Tag Format > Adjust to Decimal 2.
Our Customer Success team is here to help. If you have questions, contact us by calling 515-337-2187 or email us at support@cattlekrush.com. Be sure to take advantage of our complete resource library and how-to videos created to help you succeed.