Performance Beef only works as well as your device allows it to. Keep your iPad or iPhone working properly by updating your iOS software periodically. Read the steps below to check and update your iOS software on your iPad or iPhone devices.
On your iPad/iPhone home screen, click on the Settings icon (grey icon with gears).
Click on General, the first selection in the third group of topics (found on the left side of an iPad screen).
Click Software Update.
If your device needs updated, the newest version description will appear with the option to Download and Install (left photo). If your software is up to date (right photo), no further action is needed.
Note: Downloading the software requires internet connection via Wi-Fi.
5. Click on Download and Install. Your device will then begin to download the new software.
6. After the software is downloaded, click lnstall Now to begin the installation.
Note: Installation requires at least 50% battery power or to be connected to a power source.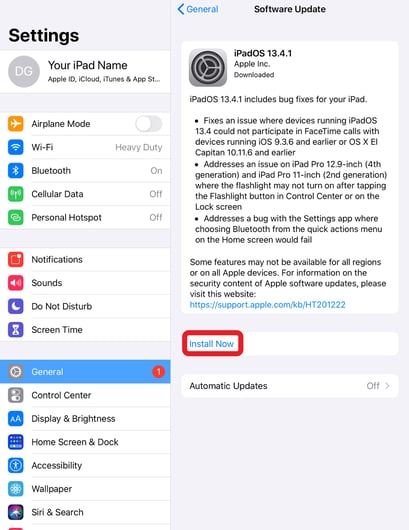 7. Your device screen will go dark and then restart with the Apple logo and progress bar underneath it. The installation may take several minutes.
If you are using multiple devices (iPad/iPhone), repeat the above steps for each device. It is important to ensure all devices have the most recent software as our engineers keep Performance Beef compatible and working smoothly with the most recent iOS software. Check our iPad Requirements to ensure your device is compatible with Performance Beef.
Our Customer Success team is here to help. If you have questions, contact us by calling 515-337-2187 or email us at support@cattlekrush.com. Be sure to take advantage of our complete resource library and how-to videos created to help you succeed.