Make setting feed calls part of your daily routine within Performance Beef. The process outlined below will assist you in keeping your feed calls up to date and eliminate batch sheets.
Things to do before setting feed calls:
Create Pens, enter Cattle, add Feed Ingredients and create Rations in the platform. Without doing these things, there will be insufficient information on the Overview tab.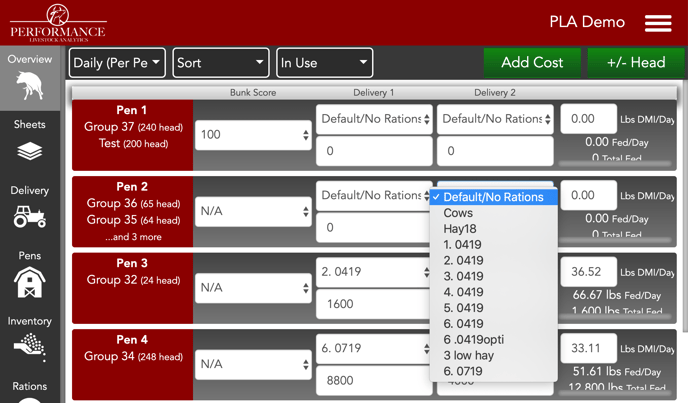 Click the Overview tab on the left side of your Performance Beef account.
Click the white box under each delivery that reads Default/No Ration and choose a ration to associate to the pen.
Click on the blank white box directly under the ration box and enter the As Fed Target amount for each drop of feed.
Click the Delivery tab on the left side of the screen.
In the Delivery tab, the platform will list out drops you can enter into a load by clicking the Needs Placement bar at the top of the page.
Now you are ready to create loads and start feeding!
Without executing the steps above, you will not be able to start working within the Performance Beef Scale App. If you are new or an experienced Performance Beef user, below are a few articles to help you edit your feed calls and start feeding with the Scale App.
Our Customer Success team is here to help. If you have questions, contact us by calling 515-337-2187 or email us at support@cattlekrush.com. Be sure to take advantage of our complete resource library and how-to videos created to help you succeed.